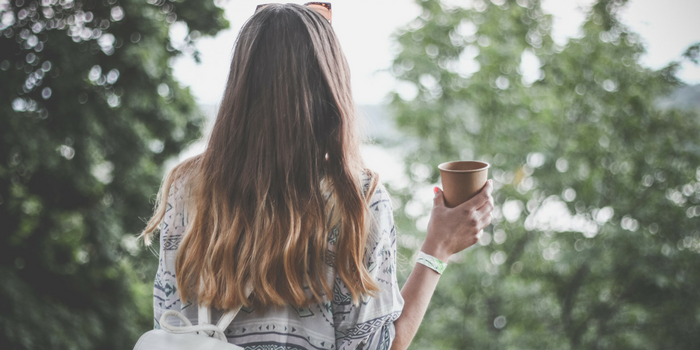 John 15 1-4 says, "I am the true grapevine, and my father is the gardener.

He cuts off every branch of mine that doesn't produce fruit, and he prunes the branches that do bear fruit so they will produce even more

. You have already

been pruned

and purified by the message I have given you. Remain in me, and I will remain in you. For a branch cannot produce fruit if it

is severed

from the vine and you cannot be fruitful unless you remain in me."
My in-laws have pear trees on their property and freshly picked pears right off the branch is the best way to eat them. In fact, I won't eat them any other way.
In the past, James has helped his father prune these trees. They're pruned to prepare for the next season of growth and it's an amazing and intricate process. The branches can grow in angles that stunt their growth while others die early in the season. Without proper direction, the branches become very crowded.
While pruning you want to cute the branches in a certain way so when they grow again they're spread out. This allows the sunlight to reach the center of the tree and ensures the strength and continued life. You also want proper air circulation to encourage proper growth and prevent diseases.
It's amazing to see the pruning process. Many branches get cut off, some that even look healthy to the untrained eye. Cutting off the correct branches keeps the center of the tree healthy. When you're done pruning and step back, it can look like anything but a fruit-bearing tree. You wonder how this will ever grow again. But, sure enough, a few short months later, we're back at their home picking and eating the most delicious pears.
Like the tree, you go through pruning. Christ's trained eye knows which parts of you are unhealthy and His desire is to get rid of them. From your viewpoint, you may not see why it's unhealthy and fight to hold onto it. He also sees the healthy parts and will refine them so you can continue to bear fruit. These seasons are for you to become more like Jesus.
The process of refining and pruning your character, ideals, and heart is uncomfortable. You may even feel unrecognizable.
When people go through this they might describe it like they are being "wrecked." There is nothing wrong with using this word, but I would like to challenge it. Being wrecked is being reduced to the state of ruin. The process of pruning is to keep the center of the tree healthy. With the center healthy it can bear more fruit, and like the tree, Jesus wants to be in the center of you. He doesn't want to cut you down to a state of ruin and then plant a new tree to start over again. That's the beauty of the cross and Him dying for you, Jesus is taking what's already broken 
and making it new.
God doesn't wreck you, He transforms you.
Romans 12:2 says, " Do not conform to the pattern of this world, but

be transformed by

the renewing of your mind. Then you will be able to test and approve what God's will is—his good, pleasing and perfect will."
When you follow Jesus, your mind will transform and renew.
This may feel like you're being "wrecked" because your way of thinking changes.
But you're not wrecked- what you are is so much better than that. You are being made new.
Galatians 5:22-23 says, "But the fruit of the Spirit is love, joy, peace, forbearance, kindness, goodness, faithfulness, gentleness and self-control

. Against such things there is no law."
The fruit of the spirit is a great example of the workings of Jesus. Nothing in the fruit of the spirit is wrecking, it's actually the total opposite-
it's life-giving.
Like the pear trees that sit at my in-laws, have you experienced seasons of pruning? Where your sinful parts
were cut
off and your healthy parts
 refined
. Then, your center became strengthened in Christ.
God is the gardener and His desire is to see you alive, healthy, and bearing His fruit.

Though this is uncomfortable, trusting who the gardener is will ensure that when you start growing again- you will grow like the pruned pear tree

. Your branches will spread wide and

evenly

, covering more ground then you did before. The Holy Spirit will flow through you like the wind and Christ will be your firm foundation. The fruit we bear will be so sweet that those who don't know Jesus will want to know more of Him.