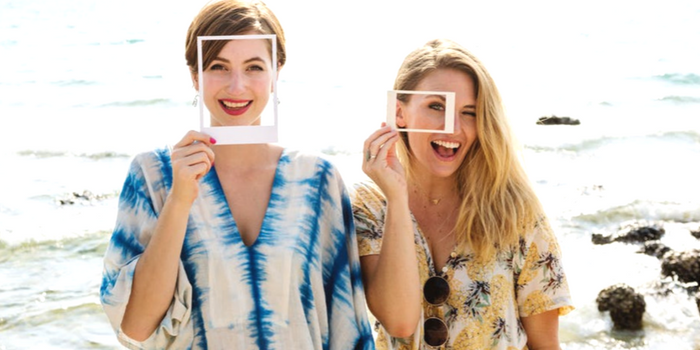 Proverbs 27:9 says, "Just as lotions and fragrance give sensual delight, a sweet friendship refreshes the soul."
One Sunday night James and I were about to sit down to watch one of our favorite TV shows. As the show started my cousin walked into the room. His phone was to his ear and he had a look on his face that was telling me something was very wrong. My aunt was on the other end crying telling us our grandfather had fallen and passed away.
We started rushing out of the house to meet up with the rest of the family. It was late and Chase was already sleeping so I called one of my best friends. I was crying and asked if I could drop Chase off. She said "Absolutely!" and within five minutes we were at her front door. She hugged me while I cried and said to take all the time we need.
Her friendship offered support and comfort during a sad and difficult time.
A few years ago, I given the opportunity to write about my experience with adoption for a Canadian magazine. They asked if I had a blog or any links they could share with their readers. I called a friend to share with her this exciting opportunity and how I always wanted to write. I asked if it was OK that I didn't have a blog or any links. She immediately responded with, "Say yes. We'll figure out the rest later."
Shortly after that conversation, the same friend showed me a website she built for me. She started educating me on blogging and pointing me in the direction of other experts to learn from. She also designed my first book and continues to work COUNTLESS hours because she believes in me.
Her friendships was a vital piece of my big dream. She continues to walk alongside me and encouraging the calling she has seen on my life.
As a wife, mother, and business owner I'm tempted to cut friendships from my life when life becomes busy.
I'm sure you can relate.
Perhaps you're not a mother but you're a student swamped with school work. Or, your career is demanding so you feel you don't have much to give to friendships.
Whatever it is that is causing you to hold you back from dedicating time to friendships, please know- I understand. I've been there. But, I've also been on the other side and the grass really is greener over here.
These two stories are only two of many times where friends have given their support. I chose these examples because one reflects a friend who gave their support during a crisis and another who helped make my dream become a reality. Had I not invested in these friendships, I wouldn't be blessed by their comfort and generosity. Also, I wouldn't have had opportunities myself to invest in them.
Maybe you don't see the value in friendships.
Maybe you've been hurt by friends in the past and are cautioned to make new ones.
Maybe you've found yourself in need of friendships and aren't sure how to have genuine friends in your life.
Or, maybe you have wonderful friends and have similar stories of support. So, you want to encourage others to invest the time since you've seen the value.
If any of these are you, I want to personally invite you to an amazing project I've been working on.
The Friends on Purpose Project
It's a 28 day Facebook group designed to inspire, encourage, and challenge you to make in-person friendships. Your guides will be nine incredible women – writers, activists, and business owners – who are passionate about community.
We're starting on Friday, April 6th and we hope to see you there! If you'd like to join The Friends on Purpose Project, click Here.
This project will feature amazing women, tools to engage with others, encouragement as you seek new friendships or deepen the ones you have, and there will be lots of amazing giveaways.
As a special bonus, when you join Friends on Purpose Project you will receive a FREE monthly printable calendar!
Ecclesiastes 4:9 says, "Two people are better off than one, for they can help each other succeed."