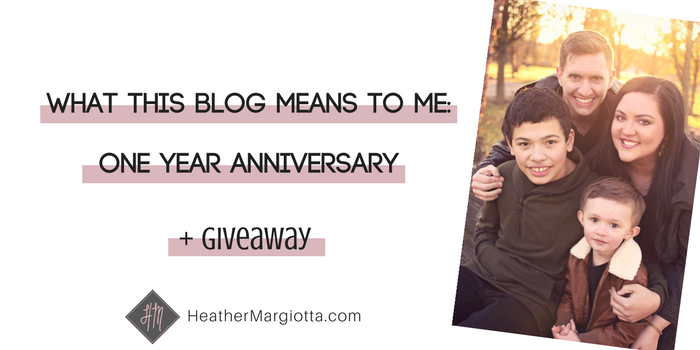 This week marks the one year anniversary of my blog and it has been an amazing year. When I announced my blog at the end of 2016, I did not expect to be ending 2017 the way that I am. I know for a fact this is all a blessing from God and I'm extremely grateful for every door He opens.
I am so incredibly thankful for YOU! You have supported me and this adventure when you had no obligation to do so. Every post share, comment, like, and messages have meant the world to me. I feel honored when you reach out and share your story and thoughts with me. You have been an incredible support system and words cannot describe my gratitude.
I've had days where I felt like what I'm doing isn't making an impact and wondering if people think I'm silly because of the things I share. On those days, God so graciously sent people my way to encourage me. These people had no idea the thoughts I had that day, but their words have stayed with me. One morning I was praying about my blog and I was thinking about all these other wonderful blogs that I follow and how beautiful their words sounded. I was feeling insecure that I didn't have a degree in journalism like many other bloggers and was doubting my writing. I asked God to show me if this blog was the path of ministry He wanted for me. I told Him if not, that I would walk away from it, I wouldn't let it define me and it wouldn't shake me. But, if this is what He has planned for me, then I would own it and run with it.  That morning I walked into church and a handful of different people, some who I didn't even know, came running over to me at different times to tell me how God used my blog to speak to them. They shared their heart and some even tears. All of them said they love reading my blog because I was relatable. That same week I had a few other people reach out to me and share the same thing. It was crystal clear this is God's will and the voice He gave me is to be relatable. I'm so glad I didn't quit because two weeks later my first post was shared on Kirk Cameron's blog and that is a huge door being opened to talk to so many more people. This all reminded me that this blog is not mine, it is His and anything He wants to do with it, He can.
The purpose of my life and this blog is to encourage others through relatable words. To be real and honest and show that we are in this thing we call life together.  Life can be chaotic and I believe Jesus wants us to love the life that He has given us by seeing the good that is there, that He puts there.
This past year I released my very first devotional, Expecting God To Move and that process and experience was nothing short of wonderful. What started out as a post-it note prayer wall turned into a devotional and watching others build their own prayer wall has been so cool! I love hearing the stories about how God is moving in the lives of those who weren't afraid to put post-it notes on their wall.
Recently, I had three of my posts shared by Kirk Cameron's blog, TheCourage. These three posts; When Life Isn't What You Hoped It Would Be,  How To Turn A Complaining Heart Into A Thankful Heart, and Are You Grieving This Christmas have received THOUSANDS of comments, shares, likes, and messages. I could never have imagined that 2017 would be ending with my words (from God) reaching so many people. I received messages from people as far away as Australia sharing their story with me and how God used my words to bless them!
When I started writing I knew God wanted me to speak on the loss of my brother and grief. For a year I struggled with it because I felt silly being transparent and foolish thinking no one would care. God worked through those emotions with me and kept pressing on my heart to write. When I wrote my post about grief I had every intention that day to write something else. But, as I wrote, the Holy Spirit was promoting my heart about my brother's death. I never thought that one small post would reach as many people as it has and I never thought the words He gave me would generate such a response. This is a great reminder that He is in control of everything I type. It also taught me how many people are walking a journey of grief. I spent a day talking to hundreds of people who shared their story with me and praying for them. It broke my heart to see so many people hurting with the deep pain grief brings and how they feel they have no one to talk to. That encouraged me to keep being a voice for those dealing with grief and give them a space to talk about it.
This past year I was able to share the finalization of the adoption of our son. This was a long road where I cried more tears than I knew my body was possible of creating. Many reached out to my family to show their love and support. I was blown away by how many people visited my post where we announced the finalization. There were more people following our journey then I even realized.
To all my readers: this is all because of you. God has gifted me with this ministry/business and please know that I pray for you all the time, more than you know.
I've loved getting to know you and as a thank you I want to give you something!
One lucky reader will win a copy of Christine Caine's new devotional: Unshakeable and a Starbucks Gift Card!  Start 2018 off the right way: Jesus and Coffee 😉

All you have to do to be entered is be an email subscriber. To subscribe, click here.

For a bonus entry: Share this blog post encouraging others to join the giveaway. Make sure you use the hashtag #HMGiveaway17 so I can see that you shared it!
Winner will be announced January 1st, 2018.
There are a lot of great things coming in 2018 that I am excited to share with you. I will be guest posting on some amazing blogs, writing more for Kirk Cameron's blog, TheCourage, and releasing a new devotional. I will be sharing freebies with ALL my email subscribers and I want to bless you and thank you for being a loyal reader so I will be hosting more giveaways.
Before I end I want to say a special thank you to two people:
My best friend Stephanie from Bobolink Creative has spent countless hours building my site, designing my devotional, teaching me everything I need to know on how to run a blog, doing so many more things that no one would ever know you have to do to run a blog, and encouraging me to keep writing. The knowledge she's given me has been a true education and helps me fake it till I make it 😉 She saw God's calling in my life and just ran with it. Stephanie, I am blessed and thankful beyond words for you. You are a special friend to me, I haven't had a friend believe in me and push me as much as you do.  
My sweet husband, James. I can't even begin to tell you all how much he supports me. He is not afraid of my success and only pushes me to be more successful. There is a huge part of this blog that also reflects him. We talk all the time about different topics and goals we have with this site and many posts were encouraged by our conversations and his words. He prays over me and this blog often and is always the first person to say "Great job. I am so proud of you." The day I found out that Kirk Cameron's blog was going to share my posts, I couldn't wait to share that with him because he really is my number one supporter. So besides being incredibly sexy, you are simply amazing.
I am so excited for this upcoming year to see all that God does not only on this blog but in your life too. I can't wait to hear from you! Again, Thank you, my entire family thanks you for supporting me. I love you all!