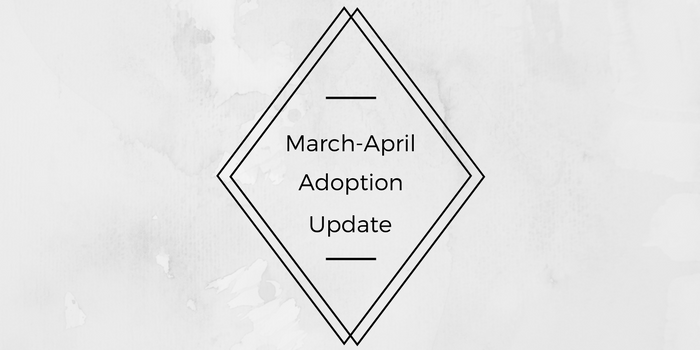 A lot has happened since I gave the last update!
M was assigned a caseworker with the state since the adoption agency that had his file closed its doors. A few days after I spoke with her another caseworker who works mainly with adoptions called me. She told me that she has been assigned to M's case to help close this out quickly. She apologized profusely for the wait time and all the difficulties we have experienced.
This caseworker sent us a packet of paperwork and a list of things to do. James and I then had a conference call with her and we walked through the entire packet of paperwork, discussed the details of finalizing, choose an attorney, and made a timeline.
So here is where we are at…
James and I have a thick stack of paperwork that needs to be filled out. We are halfway done.
M has to go to a list of doctor's appointments; pediatrician, dentist, speech therapist, etc. He has to be seen so each doctor can fill out a form and state his current health condition. This is required to determine adoption subsidy.
There were monthly forms that we had to sign and mail in, we already did this.
Another background check done since it was a year since we did our last one, we already completed this.
Finally, we have to mail in all the paperwork with the forms from the doctors.
Once, we send in all the paperwork, the caseworker will fill in the parts that she needs to, and then she will schedule the adoption court date. They schedule a month out. SO hypothetically speaking, the Dr's appointments are what is going to take the longest. If we send in everything at the LATEST the end of April, then the caseworker will schedule for the adoption end of May/ beginning of June!!!
We are finalizing in Arizona. There was so much back and forth on where we would be finalizing depending on what was most convenient that day for the former adoption agency. However, we FINALLY finalized that we will be finalizing in Arizona. There was a lot of "finals" in that last sentence 😉
We chose a private attorney who works exclusively with state adoptions and this attorney provides skype for the court hearings. So we will be able to sit at home and finalize through video!
We had the option to fly there in person and do it. We let M decide what he wanted since we did not care either way. He chose to stay here and just get it over and done with.
We will be having a party to celebrate M's adoption and EVERYONE will be invited. I mean, everyone who has played a part in this adoption, all the way to the people who would send me words of encouragement. I cannot wait to celebrate and show the world a picture of our son. It has been a long time coming.